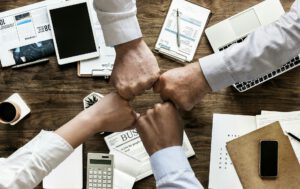 In a training I was confronted with the critique that
"Scrum forces teams to have all 3 Accountabilities,
do all 5 Events and work with all 3 Artifacts and their Commitments."
Actually no, that's not true: Scrum forces nobody to do anything.
Scrum is a framework that has proven helpful (and more) in several (many!) situations.
Scrum and its parts is defined in the Scrum Guide. It is only Scrum if applied in full.
Feel free to use just part of it, feel free to change the rules, feel free to do it differently… just it's not Scrum.
So be fair and don't call it Scrum.
And if you think that something else than Scrum is more helpful to you than Scrum, then… do "something else".
Actually, it's your responsibility 🙂
Again: just don't call it Scrum…