more Meeting Leadership Commitment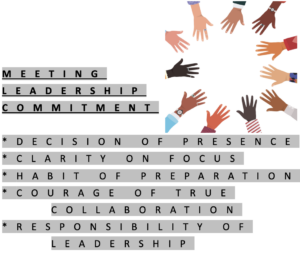 let's talk and explain the Meeting Leadership Commitment:
What is it? It's an agreement that you and your team should (or could) align on how to take responsibility, ownership, and leadership in your meetings. Together as a team.
The Title: Meeting Leadership Commitment
Meeting Leadership
This part of the title has dual significance:
a) Leadership in meetings
Taking on leadership means taking on responsibility. From this aspect it's seen as taking leadership for the meeting: everybody owns it, everybody cares for it, everybody drives the meeting to a success.
b) Meeting your bar of leadership
It could also mean that this commitment describes what you agree to to meet your level of leadership that you expect in the team.
Commitment
To take over leadership in a team needs alignment, agreement and also commitment. The latter is the strongest term and we need the included self-motivation and self-driven approach: Distributed leadership in a team needs commitment from all team members.
The 5 Values
The Meeting Leadership Commitment consists of five values to commit and act on, together as a team.
1) Decision of Presence
2) Clarity on Focus
3) Habit of perparation
4) Courage of true Collaboration
5) Responsibility of Leadership